The Award for the Best Cooperation with Farmers and Cooperatives in 2014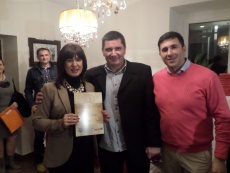 The Association of Agricultural Journalists of the Agropress and Agribusiness magazines held the traditional event called "The Evening of the Record-holders in Crop Production," on December 12th in Belgrade. The awards were presented to the most successful farmers who are engaged in field and vegetable crops production, and the event was attended by representatives of farmers' associations, companies in the agribusiness and the record-holders in the production of wheat, corn, sunflower and sugar beet.
According to the journalists' votes, the award for the best cooperation with farmers and cooperatives in 2014 went to Victoria Group, and the award was received on behalf of the company by Natalija Kurjak, Marketing Director of Victoria Logistic, a member of Victoria Group. On this occasion, this year's final "Znanje imanje" ("To Know Means to Have") TV show was shot, which will be aired on December 21st on RTS1.