Victoria Group among top 10 exporters in the first three quarters of 2016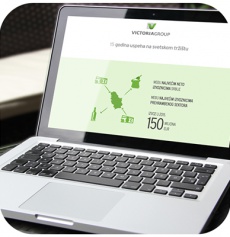 Victoria Group is among top 10 exporters in Serbia according to the report of the Ministry of Finance of the Republic of Serbia and the data from the Customs Administration. The Group took the ninth position with the export value of €126.1 million in the first nine months of this year.
In this year's harvest, like in the previous years, Victoria Group purchased soybean and sunflower seed for the full usage of processing capacities of its companies Sojaprotein and Victoriaoil. This, along with the production according to the European and international standards and high-quality products, will enable further sales growth both on foreign and domestic markets.
The infographic about export markets, products and results of Victoria Group can be seen here.
The companies that are also placed on the list of top exporters, which is a part of the Report on current macroeconomic developments published every month by the Ministry of Finance are: Fiat Chrysler Automobiles (FCA) Serbia, Hesteel Serbia, Tigar Tyres, Philip Morris, Naftna industrija Srbije NIS, HIP-Petrohemija, MK Group, Gorenje, Tetra Pak, Yura Corporation, Hemofarm, Bosch, Leoni, and Yugoimport SDPR. The total export value of the 15 leading Serbian exporters in the first three quarters of 2016 amounted to €2.9 billion.